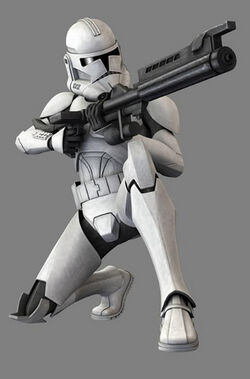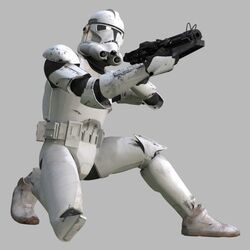 Phase II Clone Trooper Armor
was the sucessor of Phase I clone trooper armor used from 22 BBY- c.20 BBY. It was succeded by Stormtrooper Armor.
Phase II Armor was designed in early 21 BBY to improved the design. The armor is lighter, more comfortable, and much stronger than its predecessor.
Experimental (ARC Troopers only)
Standard
Scout Trooper
Pilot
BARC Trooper
Airborne Trooper
Galactic Marine
Cold Assault
AT-RT Driver (Phase II ARF Trooper)
Clone Trooper Assassin (During Jedi Purge only)
In the Clone Wars T.V. series, Phase II armor is depicted as weaker than the Phase I gear.
In the Clone Wars T.V. series, troopers used a slightly modified torso.