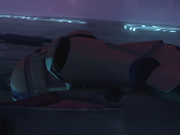 Oz is a Clone trooper of the 501st during The Clone Wars Era.
Oz

Birth:

32 BBY

Homeworld:

Kamino

Species:

Human (Clone)

Weapon(s):

DC-15s Blaster Carbine

Affiliation:

Galactic Republic

Status:

Deceased
Biography
Oz wears Phase II Armor and he serves under the command of Jedi General Krell and Skywalker. During the Battle of Umbara, Oz stepped on a landmine which killed him.
Ad blocker interference detected!
Wikia is a free-to-use site that makes money from advertising. We have a modified experience for viewers using ad blockers

Wikia is not accessible if you've made further modifications. Remove the custom ad blocker rule(s) and the page will load as expected.