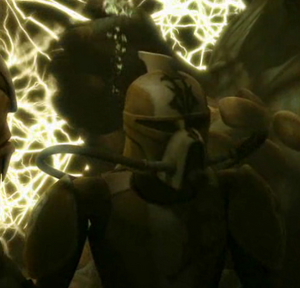 Monnk
was a
Clone SCUBA Trooper
Commander during the Second Battle Of Mon Calamari.
Biography
Edit
Monnk was a Clone SCUBA Trooper Commander deployed during the Second Battle of Mon Calamari. During the late battle, he was taken prisoner along with his brothers & allies. He was later rescued by the Quarren and the Republic defeated Riff Tamson & and the CIS.
Monnk was refered as "Yellow Leader" during his deployment
His name was revealed by Ahsoka.
Monnk

Birth:

32 BBY

Species:

Human (clone)

Rank:

Clone Trooper Commander

Status:

Unknown
Ad blocker interference detected!
Wikia is a free-to-use site that makes money from advertising. We have a modified experience for viewers using ad blockers

Wikia is not accessible if you've made further modifications. Remove the custom ad blocker rule(s) and the page will load as expected.