Colt

Birth:

32 BBY

Rank:

ARC Trooper Commander

Species:

Human(clone)

Affiliation:

Galactic Republic

Weapons:

DC-17 Hand Blasters, DC-15s Blaster

Status:

Deceased
Colt
was a ARC Trooper that served in the GAR that fought in the Third Battle of Kamino. He was ultimately killed by Asajj Ventress.
Biography
Colt was present in the Third Battle of Kamino. He was supposedly overlooking the training of the Bravo, Domino, and several other squads. He was getting ready to shoot the droids when Asajj Ventress force choked him and stabbed him, ultimately killing him.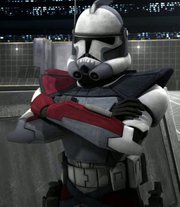 Gear
Experimental Phase II ARC Trooper armor
ARC Trooper blaster
Rangefinder
Kama
Dual Shoulder Pauldron
Notes
Colt was confused with the other Red Trooper during his death.
In a deleted scene in the Clone Wars TV series, Asajj Ventress was seen kissing Colt on the cheek as she killed him.
Quotes
"Who Wants to be an ARC Trooper?!"