CC-1119 "Appo"

CC-1119 aiming a DC-15s

Birth:

32 BBY

Rank:

Commander

Species:

Human (clone)

Affiliation:

Galactic Republic

Weapons:

DC-15s Blaster

Status:

Deceased
CC-1119 or Appo was a Clone Commander of the 501st Legion. He led the legion during the attack on the Jedi Temple.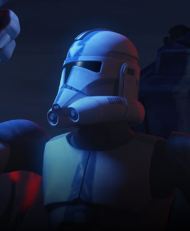 Biography
Edit
Like his brothers, Appo was born in 32 BBY on Kamino. He fought in many battles like the Battle of Umbara. After Order 66 was given, Anakin Skywalker and the 501st stormed the Jedi Temple. Appo was last seen giving orders for Senator Bail Organa to leave the scene. It is presumed he was killed by Padawan Jukassa attempting to kill the remaining clones.
Ad blocker interference detected!
Wikia is a free-to-use site that makes money from advertising. We have a modified experience for viewers using ad blockers

Wikia is not accessible if you've made further modifications. Remove the custom ad blocker rule(s) and the page will load as expected.